Cupping
What is cupping therapy?
Cupping Therapy is an ancient form of natural medicine dating back 3000 years. Cupping techniques have been used extensively to treat a range of disorders and symptoms. District Nurses previously used Cupping to help treat respiratory issues and colds. Cupping is often used along side Acupuncture or massage but it can also be used as a stand alone therapy.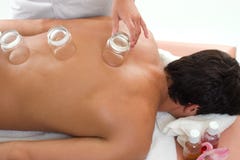 Cupping involves placing specially heated glass cups on the back or other areas of the body for approximately ten minutes or longer to create suction. It is often used to treat tight muscles particularly the upper back as part of a deep tissue massage, by increasing the blood flow to a area pain is relieved. On occasions Cupping can also be used to shift phlegm and congestion in the lungs.
Cost of treatment (included in the price of a acupuncture treatment)
Stand alone therapy 30 minutes cupping £30. Pay for 5 and the get 6th treatment free.
I am a member of
General Hypnotherapy Council
British Acupuncture Council
BACP Counselling
Watch our clients personal experiences
"Patti is so warm and welcoming. She listerns to you and tailors treatments to your specific needs. She always makes you feel complet.....Read More
"I have recently completed a course of Acupuncture with Patti and am thrilled with the results. Patti treated me for neck back .....Read More
"I have been suffering from severe migraines for almost 30 years and have tried everything from reflexology and supplements to increa.....Read More
"I first started seeing Patti in September 2014 after a few hard months at work. I had recently given up my career in management to r.....Read More
Watch our Client Experiences