Cosmetic Acupuncture
Acupuncture has been practiced in eastern countries for over 2,500 years. It is a traditional form of Chinese medicine based on the understanding that our body's motivating energy force or Qi (chi) moves through a network of channels that run beneath the skin. Cosmetic Acupuncture, or revitalisation, is a non-surgical method of reducing the signs of the aging process by the insertion of small 'Intradermal' needles which increases the bodies production of collagen reducing the appearance of fine lines. More than just a cosmetic procedure, the treatment will also improve the individual's energy and sense of well-being.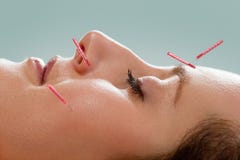 Fine, sterile needles are inserted at various points on the meridian lines on the face and body to balance the energy flow.
As well as affecting the face, the acupuncture simultaneously treats the underlying factors that contribute to the aging process.
Cosmetic Acupuncture can be a stand alone treatment or can be added to a regular acupuncture treatment.
Cost of treatment
Single session lasting 60 minutes £45 or pay for 5 and get 6th treatment free. When combined with a regular Acupuncture treatment 75 minutes appointment cost £50.
I am a member of
General Hypnotherapy Council
British Acupuncture Council
BACP Counselling
Watch our clients personal experiences
"Patti is so warm and welcoming. She listerns to you and tailors treatments to your specific needs. She always makes you feel complet.....Read More
"I have recently completed a course of Acupuncture with Patti and am thrilled with the results. Patti treated me for neck back .....Read More
"I have been suffering from severe migraines for almost 30 years and have tried everything from reflexology and supplements to increa.....Read More
"I first started seeing Patti in September 2014 after a few hard months at work. I had recently given up my career in management to r.....Read More
Watch our Client Experiences