Acupuncture
Acupuncture is a system of healing which has been practiced in China and other eastern countries for over 3000 years. Although often associated with a treatment for pain relief, acupuncture can be used to treat many common health complaints.
Acupuncture is recognized by the World Heath Organization in treating a wide range of health conditions, relieving pain and promoting good health. Acupuncture helps the body release endorphins (the body's natural pain killers), relaxing muscle spasms, re-balancing hormones, reducing inflammation and stimulating the body's healing response.
The National Institute for Clinical Excellence (NICE) recommends Acupuncture as a effective treatment for lower back, osteoarthritis of the knee, to enhance fertility and for the relief of headaches.
On occasions I may also do massage (in cases of back problems or other muscular complaints), cupping or auricular (ear) acupuncture to enhance the effectives of the treatment.There will be no additional charge for these additions.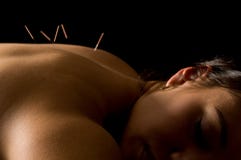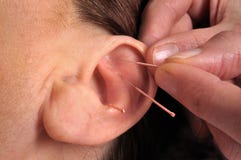 Acupuncture is a effective and safe treatment to help treat both chronic and acute conditions. It can help relieve the symptoms of:
Acute & longstanding back & neck pain
Sciatica, frozen shoulder, knee or ankle pain
Stress, Anxiety or low mood.
Headaches & migraine
Bowel complaints such as IBS, Ulcerative Colics, Crohn's
Sinusitis, Allergies such as Hayfever.
Fertility issues men & women
Pregnancy including morning sickness, breech presentation, back pain, birth preparation
Period pain, PMT, excessive menstrual bleeding, fibroids
Hormonal imbalances- Menopausal symptoms including hot flushes, polycystic ovary syndrome.
Sleep problems
The principle aim of acupuncture is to treat the whole person, creating a sense of equilibrium between the physical, emotional and the mind of the individual.
Acupuncture is a safe and effective non-pharmacological based treatment that is suitable for all ages. For those who have a fear of needles Acupressure can be used as a alternative treatment. I have experience of treating all ages from four years to those in their nineties who have a number of different conditions, from pain management to fertility.
All needles are individually packaged and sterile and are clinically disposed after use.
I did my initial training in TCM Acupuncture at the Northern college of Acupuncture in York for four years and then went on to do further study at Middlesex University in the Chinese Classics and Acupuncture. I have also completed further study in Cosmetic Acupuncture, Fire cupping, Tongue Diagnosis for Digestive problems, Male infertility, Acupuncture for Addictions and other subjects.
I am a member of the British Acupuncture Council and registered with Harrogate Borough Council as a approved Acupuncturist.
If you are unsure whether Acupuncture can help you please give me a call to discuss your symptoms or to arrange a 30 minute free consultation without obligation contact me on 07787 831 275 or email me at patti.hemmings@hotmail.com
Cost of treatment
£40 per Acupuncture treatment, alternatively, pay for 5 treatments and get the 6th free.
I am a member of
General Hypnotherapy Council
British Acupuncture Council
BACP Counselling