Yoga Classes for All in Harrogate
Monday evenings 7.30 pm to 8.50 pm at St Robert's centre, 1-3, Robert street, Harrogate, HG1 1HP (Robert street is off Station Parade & near the side of Waitrose). There is parking in the church car park opposite or Waitrose's car park.
Men & Women and all ages welcome. The class is a friendly and positive happy event.
Yoga improves flexibility, strength, balance and helps calms the mind.
Yoga is both a graceful form of exercise and a potent means of stress relief. With it's foundations set firmly in ancient yogic tradtion, Yoga is a style that has been passed down through the generations. It works on the body and mind, strengthening core stability and building a heightened feeling of positivity and empowerment.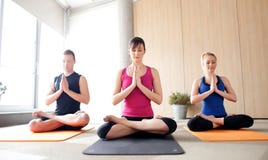 My initial teaching Diploma is in Sunpower Yoga & then I have studied for further 2 years with Dru Yoga. Completed workshops in Transformational Breathing with Alan Dolan and I am about to start my Yin Yoga teacher training at Yoga Hero in Leeds.
If you like further information please contact me on 07787 831 275 or email me at patti.hemmings@hotmail.com
I am a member of
General Hypnotherapy Council
British Acupuncture Council
BACP Counselling
Watch our clients personal experiences
"I have recently completed a course of Acupuncture with Patti and am thrilled with the results. Patti treated me for neck back .....Read More
"I have been suffering from severe migraines for almost 30 years and have tried everything from reflexology and supplements to increa.....Read More
"I first started seeing Patti in September 2014 after a few hard months at work. I had recently given up my career in management to r.....Read More
"I have been having treatments with Patti Hemmings for a number of years now. She has a very kind and gentle approach and instantly m.....Read More
Watch our Client Experiences